Tom Walker, who lives in my hometown, is one of the top player development coaches in the country. He is here in Mobile, and as a result of many conversations with players, parents and other coaches, has written this position paper on the USTA Junior Competition Committee's proposals, up for vote on Monday, March 19. I am publishing it below, in its entirety.

Raise your voice now!

Sectional Uprising Required To Save Junior National Tournament Structure


Is it too late?

Has a runaway National Junior Competition Committee already:

1. Eliminated 2 of 4 National Junior championships? (Winter and Spring Championships)

2. Reduced the National Championship draws to 128? (64 if you're in the 12s)

3. Mandated that players are only selected for Nationals through their sectional quota or by one of the USTA's 16 WildCards?

4. Mandated that players must play regional events in their region? Hey listen up Midwest and Pacific Northwest you're in the same region. How is that going to work? That commute for the 8:00 a.m. match will be a tough one.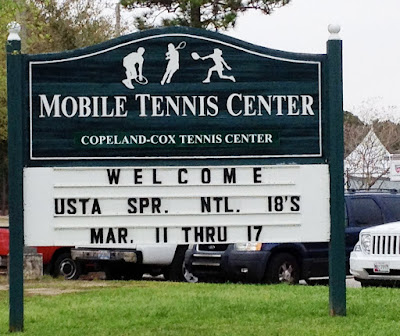 Meanwhile, here in in Mobile Alabama, the boys and girls National 18s Spring Championships are under way. College coaches are busy scouting and observing their future charges. This event attracts outstanding young people from every section. Slowly the word is spreading that this and other National events are now on the chopping block. The overwhelming questions are why and what can we do to prevent this from occurring? College coaches are equally perplexed. They fail to understand how the elimination of these events helps anyone except foreign competition for collegiate tennis spots. Why were players, parents and coaches not consulted? Is it coincidental that no USTA coach or representative is here in Mobile? Time is ticking away to save these tournaments and a system that allows multiple avenues of acceptance into National events. Unless a majority of sections vote on Saturday to reject the Junior Competition Committee action, the policies will be adopted.

Yet there is still a glimmer of hope. This is buoyed by several Sections that are now on record as prepared to reject these proposals. There is still time for each of us to act. Contact your sectional presidents. Tell them to vote no. Further question them as to why no public forum on these issues was ever offered.

The changes being voted are dangerous and destructive to junior tennis within the USA. The idea of reducing costs and making the system more affordable is a noble cause. However the premise of hacking off events and players as a remedy is based upon ill-conceived assumptions. Why should we cast at developmental levels with smaller nets? This philosophy will seriously undermine our game's status. USTA tennis has had a track record of radical action with each outgoing president. Gentle tweaking is what is required instead of wholesale amputation of the National schedule.

The sections must Stop! and Think! Before acting, produce a study that has been initiated showing the impact on first year player and the opportunities afforded by larger draws. Are their proposals simply based on a personal assumption that smaller draws are more concentrated and thereby more efficient? Players that excelled in the hand-picked Orange Bowl fell to unseeded players in the Winter Nationals. Why limit these kinds of playing opportunities?

Please take the time to fully evaluate and measure the impact of radical change.

1. Current National Championships draw sizes: Hard (192), Clay (192), Spring (128), Winter (128)

Reduction of the draw sizes is short-sighted and fraught with peril. Grow the game, don't shrink it. Reaching these tournaments is a measurable and motivating accomplishment for many young players across our country. The current system provides an obtainable goal for those with drive and passion. It provides a platform for future college players and their recruitment. The argument that initial matches are uncompetitive is a half-truth. Reduction in draw sizes will not fix these issues as quotas automatically put weaker players in the draws. Pure quotas do not protect an individual player's effort from any section. A safety net based on national performance must be in place. Giving any panel 16 wild cards is wrong. The saving of a day is never worth the loss of participation that occurs with larger fields in these key events. It will eliminate personal effort for geographic location.

When have you heard for any major sports team ask to cut the number of teams in the playoffs? Or reducing the major slams…? Let's shrink Wimbledon also to 64 or 32. Parents don't mind this expense. It is the costly ramp up that's a problem.

Unintended consequences of reduced draw sizes will include:

1. Outstanding first year players may not get in. This will reduce playing opportunities. Additionally the birthday rule unfairly gives the oldest players a ranking advantage within the sectional quotas. (This squashes the better younger players)

2. Limits players and access for college tennis recruiting

3. Shrinks the game

4. Financially injures current supporting tournaments and cities

5. Puts more players at risk of shaky sections and singular section results.

6. Luck of the draws in smaller sections will dictate players (possible manipulation)

7. Deserving players not getting in because of geographical residency

8. Decreases skill level and improvement in lower players/ coaches by not exposing them to upper end skill and talent

Conclusion-

Sections must be held accountable to study the effects proposed changes could bring before rushing into action. Reduction is not a positive move in our major events. This plan does not concentrate the process. Rather, it excludes players that may become significant collegiate players and perhaps professionals.

You may be limiting a future champion by reducing numbers at the youngest levels. We must not proceed under misguided assumptions. The failing of world class USTA players is not the overall junior system. It should not be allowed to be the scapegoat. The reality is that many benefit from the collegiate system which is fed by the current junior structure.

To develop top players training and support is required. This can be accomplished by adding new specialized events. To reduce costs, regionalization can also be implemented. However a player's skill should ultimately be the deciding factor in their selection of National championships. The geographic location where they reside should not be held against anyone. We must maintain measures that account for these aberrations and will not fail the individual's effort. I suspect that closer evaluation would lead to surprising data of players that would have been excluded in years past. Please slow down and defeat this proposal.

After decades involved in junior tennis, I remain perplexed of how out of touch this proposal is. It is now up to the Sectional leaders to save our juniors from a national committee that has run amok. Players, coaches and parents should contact their sectional offices quickly to have their voices heard before it is too late.

USTA Southern: John Callen 770-368-8200 x123
USTA New England: Heather Anastos 508-366-3450, ext. 29
USTA Midwest: Mark Saunders 317-577-5130 x222
USTA Eastern: Jenny Schnitzer 914-697-2393
USTA Florida: Doug Booth 386-671-8925
USTA Intermountain: Matthew Warren, 303-695-4117 x222
USTA Middle States: Marlynn Orlando 610-935-5000 ext. 235
USTA Mid-Atlantic: Rod Dulany 703-556-6120 x13
USTA Northern: Mike Goldammer 952-358-3284
USTA Missouri Valley: Mary Buschmann 913-322-4824
USTA Texas: Ken McAllister 512-443-1334 ext. 201
USTA Southwest: Eric Mitchell 480-289-2351 ext. 107
USTA Pacific Northwest: Bill Leong 503-520-1877 x11
USTA Northern California: Steve Leube 510-748-7362
USTA Southern California: Henry Talbert 310-208-3838
USTA Hawaii-Pacific: Ron Romano 808-585-9526
USTA Caribbean: Lydia de la Rosa 787-726-8782 x 228

Tom Walker
Director of Tennis
Kalamazoo YMCAs
(269)598-8767